Posts tagged "Digital Marketing"
Affiliate Marketing Success. It's Simple.
Everyone wants to make money, be it from Google AdSense, Affiliate Marketing Success Techniques, or Direct Sales.
I prefer Affiliate Marketing Success over all other monetization methods for blog. While there are millions out there who are making $100,000 from AdSense and advertisements. I prefer to mix things a little bit.
I do use AdSense, but minimal.
Affiliate Marketing Success takes skills, you need to know how to sell.
With experience in presales and marketing, I have thorough knowledge of what customers look for in a product.
This makes selling and marketing my blog easy.
However there are so tips and tricks that you need to know to be a successful affiliate marketer.
You need to build trust, credibility and also recommend only the best products.
Today, I would like to share my affiliate marketing secret with you.
I know I called it Affiliate Marketing, but its more like Affiliate Sales.
Don't let the term confuse what you should be doing as an affiliate marketer.
Affiliate Marketing Success – Stop Marketing
One of the biggest mistakes we all make as affiliates is to market another person's product.
Let's get to real life examples for a moment. When you go closes shopping, you find retailers selling ton's of branded products, that they don't own.
Have you ever wondered, that they sell and not market, while their advertisements and marketing material might contain the affiliate product.
Back to the affiliates online.
In the digital world, we don't really have to own the product.
We simply have convince the leads we generate that the product is good for their business requirements.
This you can achieve only if you truly understand your readers and customers.
While I mention, Stop Marketing, this only pertains to affiliate products and not your blog.
You still need to focus on marketing your blog to get new readers and clients.
Fuente / Source: Eddie Gear.
19 Content Marketing Experts Offer Their Best Advice
Have you ever wondered what the best piece of content marketing advice is? Where do you need to focus your marketing efforts versus what's just nice to have? Now that content marketing is the hot marketing buzzword, what are the critical elements your content needs to rise above the noise to drive measurable business results?
To help you, we surveyed 19 top content marketing experts to get their advice and here's what they say.
"Stop being amazing, and start being useful." From Youtility cited by Jay Baer of 

Convince and Convert

, author of 

Youtility

 and 

Peg Fitzpatrick

 one of the ringleaders at 

12Most

.
"Content marketing is like producing a movie. It requires a cast of skills to design, execute, distribute and measure a content initiative." I'll be speaking at CMW on how to become a social business. I'll explain how a social business approaches content the same as producing a movie. [Here is] my 

blog post explains the "producing a movie" analogy

. Bernie Borges of 

Find and Convert

 and author of 

Marketing 2.0

.
"My best piece of content marketing advice is to always be helpful and create marketing that helps people."  Michael Brenner of SAP and the 

B2B Insider

 blog.
Source / Fuente: Heidi Cohen.
Content Marketing: What I Learned On My Summer Vacation
A marketer never sleeps. Nor does she ever completely go on vacation. My husband kids me that my every conversation is a marketing lesson. What I learned on my recent family trip to Puerto Vallarta, Mexico was no different.
As part of our trip, we participated in three adventure travel packages run by a local company, Vallarta Adventures, that enhanced our vacation and provided us with unforgettable memories. This was experiential marketing at its best.
Here are 7 actionable experiential content marketing tips based on my summer vacation. They can be applied to restaurants, hotels, activities, events and conferences. But don't overlook the potential for using these tips in your retail establishment.
Source / Fuente: Heidi Cohen.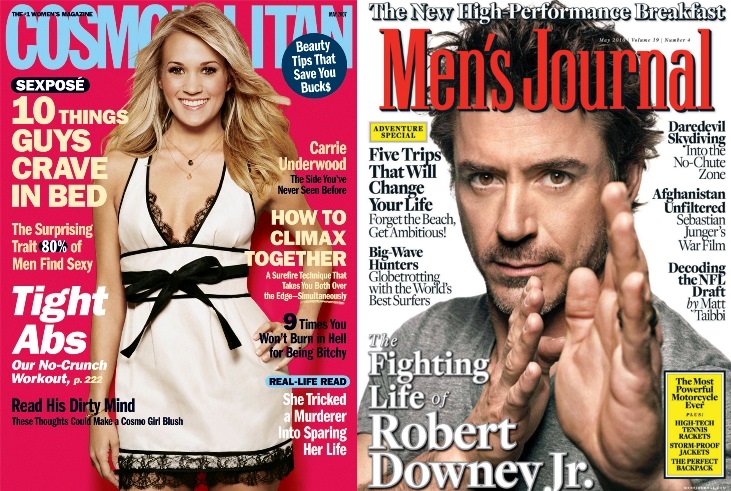 At HubSpot, we love to teach businesses how to write compelling copy and irresistible offers. One of the most important elements of any piece of content is having an attractive headline. Especially in today's economy where every company is fighting for consumer attention, standing out is important.
As our CEO Brian Halligan once said, "You can have an amazing piece of content, but if the headline sucks, no one will read it."
Whether it's an email, blog post, news article, or whitepaper — the better the headline, the more clicks and readership it attracts. That's why magazines have become masters at compelling headlines. Take Cosmopolitan for example: "10 Things Guys Crave in Bed," and "Tight Abs: Our No-crunch Workout." Or Men's Journal: "Five Trips That Will Change Your Life," and "Decoding the NFL Draft." Catchy titles like these, aimed at their target audience, are what gets magazines flying right off the shelf.
It's clear that seductive headlines work. But there's more than just the headline that makes content powerful. If you chose to write a highly-captivating headline, the rest of the content must deliver. More often than not, however, articles will over-promise with the headline and then under-deliver once the reader has gotten to the meat of it. This is referred to as link bait, which is content that is designed specifically to gain attention or encourage a click-through, and many times, the actual content delivers little value or fails to meet expectations.
When this happens, it can hurt a brand more than it helps. Here's an example:
Source / Fuente: HubSpot.