Research carried out by Bunnyfoot suggests that many people are unaware of the difference between paid and organic search listings, with 40% of web users unaware they were adverts. 
While conducting a research project for an insurance sector client, Bunnyfoot discovered that 81% of users clicked on Google Adwords listings as opposed to natural search results.
Further investigation of this surprising bias revealed that 41 out of the 100 individuals tested did not know that Adwords were paid-for adverts, believing them instead to be the most authoritative links.
Looking at a Google results page for 'car insurance', the paid ads do stand out thanks to the background shading, while Google does add the label 'ads related to car insurance' at the top.
However, this label could be easily missed and, if you don't know they're ads, the shading could mean anything.
Source / Fuente: Econsultancy.
Google AdWords has begun providing more specifics about the new bidding tools and mobile bid settings for enhanced campaigns.
The AdWords interface for enhanced campaigns includes a new bid adjustment calculator designed to show you what the final bid adjustment will be when using multiple bid settings. Bid adjustments for mobile, day, time of day and location are made within the Campaign Settings tab. The calculator shows you what the implications will be when applying multiple bid adjustments.
 You'll find the calculator icon when you're in the Campaign level next to  "Active bid adjustments":
The campaign-level bid adjustments are then applied on top of your keyword or ad group bids. Bid adjustments for location, days and time of day and any ad group-level targeting methods can be set from -90% to +900%. For mobile devices, bid adjustments can be set at -100% if you don't want to run on mobile at all, or between -90% and +300%.
When you convert an existing campaign to enhanced, AdWords will often show you the estimated change in impressions, clicks and cost depending on the mobile bid adjustment you select. This estimate is based on how advertisers with similar keywords in their accounts bid on mobile compared to other devices.
Source / Fuente: Search Engine Land.
I have a feeling that many of you share this frustration with me. Over the last few years I have been running adwords campaigns for my clients, and most of the time I do a great job delivering results. But, every now and then I run into a situation like this. Worst part, I know there is NOTHING I can do about it.
At first I thought I would share this issue with the SEJ community and seek advice. But after thinking about it (and having a beer or two) I thought I'd turn this into an open message to Google. The key message here is "WTF GOOGLE…GIVE ME DATA!"
Here's the Situation
Below you will see the data of my adwords campaign. I blacked out the campaign name to protect my client's privacy. If you're like me, your eyes go to the CTR and you think, "Crap! Either the ads are wrong or the keywords are wrong…..let's make changes."


One of the monthly tasks that I preform for PPC accounts is identifying negative keywords and adding them to the ad groups or campaigns. A very critical part to Adwords success! So, to execute this optimization technique I drill down to see the queries that are achieving the ads (found in the keyword report), and what do I find? Nothing but Success! Well, almost.
In the image below, check out the CTR's on the queries that have activated the ads. Out of this world! 33% ctr here, 6% ctr there, 100% on that query, things are looking good.  I don't think the ads are an issue here.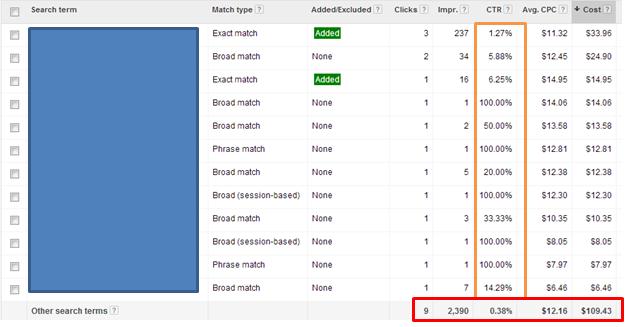 Pay special attention to the data in the red box (above), .38% ctr, 2,300 impressions, and 9 clicks with a cost of $12.16 per click. This tells us that the negative keyword information that I need is found in that black box! Also, every time an ad is clicked I spend twelve bucks. The worst part is that Google is not giving me the data needed to do my job. What do I tell the client when they ask me if I feel that the campaign is generating the results that I expect to see?  Come on Google, let's work together on this.  Broad match modifier
Source / Fuente: Search Engine Journal.
El Quality Score o Nivel de Calidad en Adwords es un factor que Adwords asigna a nivel de keywords de tu campaña, y asigna un valor entre 0 y 10, siendo 10 el máximo. Si tienes keywords con Quality Score 10 significa que por esas keywords estarás pagando el mínimo precio posible en la posición en la que salga el anuncio, y además mejorando los niveles de calidad de tus keywords en Adwords serás premiado con una reducción global de tus costes y una mejora de tus rankings.
Tal como ya comenté en mi anterior post de 6 Trucos para Optimizar Adwords Si tu trabajas tus campañas y las mejoras, incrementando la calidad de las mismas, Adwords te premiará con menores costes y mejores rankings en Adwords. Despues de esta introducción, vamos al contenido del test efectuado y que me ha repercutido en unincremento del 40% de las keywords de Quality Score 10 de una campaña, sin agregar nuevas keywords, sólo con una simple pero efectiva estrategia: La ReSegmentación.
Source / Fuente: SEOCOM.