Una de las herramientas más importantes de la estrategia de comunicación digital  de  cualquier negocio  o empresa es el E-mail Marketing. La mayoría de las personas que nos consultan saben esto, por lo general conocen o reciben correos electrónicos  de alguna firma.   
Un "plan de marketing de correo electrónico" suena un poco complicado, difícil  y aparenta consumir mucho tiempo. Estas son algunos de los problemas que los pequeños negocios tienen  cuando piensan en el  e-mail marketing, sumado a ello, que la mayoría de los dueños de empresa están demasiado ocupados dirigiendo su negocio para lidiar con algo así, ¿verdad?
Debido a que la ésta estrategia es la más efectiva a la hora de convertir Leads en clientes queremos compartir esta guía contigo para que puedas aprovechar el email marketing para tu negocio, que en combinación con las redes sociales, se puede generar un impacto es aún mayor.
Hecho con inteligencia, el marketing por correo electrónico impulsa las conversiones (ventas), aumenta ROI, y le da una forma directa de hablar con sus clientes.
Source / Fuente: Marketing en Redes Sociales.
Franklin Leyton Burgos autor del blog de tecnología, marketing y otros temas llamado ArticulosModernos.com, envía un artículo sobre consejos para mejorar las campañas de email marketing. Los dejo con el artículo:
Las campañas de marketing por correo electrónico son elementos esenciales de cualquier estrategia de marketing. Permiten la comunicación y construcción de relaciones con los potenciales clientes, la obtención de datos importantes y ayudan a aumentar el retorno de la inversión de marketing.
Para construir, ejecutar y mantener campañas efectivas de marketing por correo electrónico, debe prestar mucha atención a su público, al mensaje que piensa enviar y evitar el error común de simplemente enviar mensajes de autopromoción. Esto sólo acarrea que los destinatarios pulsen el botón de eliminar más que la apertura de su mensaje.
Para llevarte por el camino correcto a la realización de campañas efectivas, aquí hay 10 consejos para el éxito de las campañas de email marketing:
Source / Fuente: Blog Juan Carlos Mejía Llano.
At MarketingSherpa Email Summit 2013, I was asked about the top three things marketers should do to make more effective emails by Jim Ducharme, community director, GetResponse Email Marketing …
I'm interested to hear how you would answer the above question as well. Feel free to use the comments section of this MarketingSherpa blog post to share your thoughts.
The question reminds me of a story from John C. Maxwell, author of The 21 Irrefutable Laws of Leadership. He tells of a young man coming up to him, and asking for the one thing the young man can do to become a better leader. Maxwell responds that there is not just one thing, there are 21 things he must do to become a better leader.
Clearly, Maxwell is good at branding. But, he also brings up a good point. We're all busy, and we're looking for the top takeaways or shortcuts to do our jobs better. However, true success is not so simple.
While many marketing blogs are fond of giving you the few shortcuts or secrets to success, I'm sorry to say that email marketing is hard work involving so much more than the three steps listed below.
But, at a high level, if I had to narrow email marketing down to three steps based on all we've learned from marketers through MarketingSherpa, it would be these …
Source / Fuente: MarketingSherpa Blog.
Buying email lists is evil. Don't be evil.
Few things are as antithetical to good inbound marketing as purchasing a list of strangers' email addresses and blasting them with your latest campaign. You may get a short-term win, but emailing to a purchased list can be detrimental in the long run.
Beyond that, it's bad practice in general and causes frustration for the recipients, who haven't opted in to hear from you.
There are also two significant business risks associated with emailing to a purchased list:
Source / Fuente: MarketingProfs.
In the 2013 MarketingSherpa Email Marketing Benchmark Report, we asked marketers about their organizational email marketing goals.
As you can see below, delivering highly relevant content is a top goal for marketers, right up there with driving additional traffic to the website and increasing sales conversion and revenue.
Why content?
And it's a good thing, too. After talking to Brindisi Chan, Marketing Manager-Webinars, Vocus, I learned that some of the top challenges facing the Vocus Blog audience are:
Writing effective subject lines
Finding the proper send frequency
Improving list sign-up
In each of these challenges, content plays a key role.
After all, effective subject lines accurately depict the content in the email. If the content is relevant, so is the subject line. The content gets you in the ballpark, and then A/B testing helps you narrow down your most effective messaging of that content.
Send frequency ties very tightly with your content calendar. Getting a better understanding of your audience (notice I said "audience" and not "customers") through the content you produce helps you better understand how and when they want to receive your email. Again, once you're in the ballpark, testing your send frequency helps you further refine your schedule.
There are two important factors to improving list sign-up. Creating value in the content you're asking prospects to sign up for, and then communicating that value. Once you have those two things down, you can find some pretty innovative ways to get those messages in front of prospects and get them on your list.
Source / Fuente: Vocus Blog.
Aunque muchos pensaban que el mail marketing y el envío de correos estaba muriendo con la llegada de las redes sociales (facebook, twitter, …) creo que nada más lejos de la realidad. Además de mi experiencia durante años en este sector podemos citar algunas de las conclusiones de destacados estudios sobre el marketing y correo electrónico, donde queda claro que hay mucho potencial para desarrollar.
Son 9 las razones que os damos por las que el email marketing es realmente importante para vuestros negocios:
Source / Fuente: acumbamail.
SUMMARY: To save resources, including the valuable time of its five full-time staff members, Iron Tribe Fitness built a website and a series of 11 emails both focused on educating prospects about its niche service.

With a combination of email marketing and staff personally qualifying leads, Iron Tribe was able to cut the amount of people with whom they conducted in-person consultations to 53% of prospects, converting 98% of those to signing a contract.
by Courtney Eckerle, Reporter
CHALLENGE
Iron Tribe Fitness was interested in conserving its resources and cutting down the time the team needed when converting a prospect into a customer and when determining if a prospect was the right fit for its premium product.
When Iron Tribe was founded in 2010, more than 80% of its leads came from offline sources. Most had almost no information on the service provided before inquiring in person or over the phone.
"They came in pretty cold," said Jim Cavale, Chief Operating Officer, Iron Tribe Fitness and Iron Tribe Franchising.
Cavale refers to these prospects as "the tire kickers." His staff was spending much time explaining the service to many people who had no interest in the value of the product.
"In 2010, the opportunity was clearly in the fact that while we acquired a great deal of new clients, we were getting most of them to actually convert when they sat down across from the table in a consultation," said Cavale.
While that worked at the time, Cavale said it was clear Iron Tribe needed to "scale our model … to depend less on the person [who's] doing sales at that consultation table."
The objective, he said, was for ideal prospects to come in already sold on the service.
CAMPAIGN
Iron Tribe is an intensive fitness gym and program that requires a substantial time and monetary commitment, and only a niche customer is willing and able to give both of those things.
Iron Tribe limits its locations to 300 members. It also keeps a full-time staff of five people that allows customers, or "Iron Tribe athletes," to have a "one-on-one relationship with the staff that's empowering them to reach their goals and achieve their goals and exceed their goals," said Cavale.
To consult only highly motivated prospects prepared to commit to the service, Iron Tribe set out to create a "prospect-centric website" that would focus on informing about its service.
Upon signing up to receive information from Iron Tribe, prospects are sent 11 emails over the course of 18 days featuring information about the fitness program as well as testimonials from Iron Tribe athletes.
The emails encourage the prospect to call into Iron Tribe, where an employee will qualify them through a script for an in-person consultation.
Having only highly motivated people sign an agreement allows Iron Tribe to keep all of its limited slots for truly committed customers. These customers not only fulfill their time obligations, but also renew their contracts time and refer others.
"The lifetime value of a client isn't $2,000. It's actually $8,000 because they refer friends, who sign up for $2,000 and they renew," said Cavale, adding that after implementing this campaign, there was a 97% retention rate in 2012.
Source / Fuente: MarketingSherpa.
Just over a third of businesses (34%) are unable to calculate the revenue earned from email marketing, according to a new survey from the DMA.
Only 60% of respondents said that they could calculate the revenue return, despite the fact that a vast majority of businesses (89%) said email marketing was either 'very important' or 'important'.
This tallies with data from the new Econsultancy/Responsys Marketing Budgets 2013 Report, which found that only 52% of businesses rate their ability to measure ROI from email marketing as 'good'.
According to the DMA's report, of those who can calculate the ROI one-fifth (20%) accrue more than £51 for every pound spent, while almost a half (49%) of respondents said they achieve an ROI of between £1 and £10 for every £1 spent.
Even so, based on an assumption that the average return for the top category is £55, the estimated average return across all organisations is £21.48 for each £1 spent on email marketing.
Source / Fuente: Econsultancy.
El email marketing es una de las formas más eficaces de dirigir el tráfico a tu web y de aumentar las ventas. Pero hay muchas ideas erróneas sobre cómo hacer un envío de correo electrónico importante. Muchas empresas no envían correos electrónicos de marketing suficientes. Éstos son algunos de los mitos que se podría conseguir en su camino de convertirse en un buen vendedor por correo electrónico.
Source / Fuente: Social Panty.
A powerful Email marketing is deficient without a good big subscriber list. But, this isn't a problem anymore as many ways are available today to get more subscribers for Email list.
Generally, website owners make use of their own websites to bring together various Email addresses to enlarge their email list.
Moreover, some of the website owners create different websites just to fetch more email addresses to gear up their email marketing drive.
Nevertheless, professionals have come out with some valuable methods to add more addresses on the subscribers list.
Here are some of the ways to get more subscribers to your email list.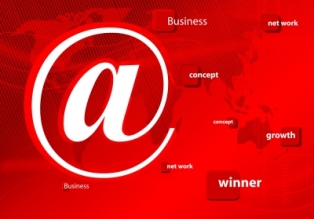 Source / Fuente: noPassiveIncome.com