Content Marketing / Marketing De Contenidos
When I started my marketing career, I had the privilege of working with 20 of the top 100 blogs, according to Technorati. My job was to help them grow their traffic… and most would say I was wildly successful at it.
For example, I was able to grow TechCrunch's traffic by 30%, and I was able to grow Gawker Media's traffic by an extra 5 million visitors a month.
Although what I did may seem impressive… it really isn't. All I did was tweak a few on-page elements, leverage social media and cross-link to grow my clients' search engine traffic.
What was impressive is the fact that some of these bloggers took their sites from nothing to upwards of 100,000,000 pageviews a month. Over the years, I had the privilege to watch, study and learn from their strategies.
Here's what I learned from them:
11 Content Marketing Lessons Learned From 20 of the Top 100 Blogs.
19 Content Marketing Experts Offer Their Best Advice
Have you ever wondered what the best piece of content marketing advice is? Where do you need to focus your marketing efforts versus what's just nice to have? Now that content marketing is the hot marketing buzzword, what are the critical elements your content needs to rise above the noise to drive measurable business results?
To help you, we surveyed 19 top content marketing experts to get their advice and here's what they say.
"Stop being amazing, and start being useful." From Youtility cited by Jay Baer of 

Convince and Convert

, author of 

Youtility

 and 

Peg Fitzpatrick

 one of the ringleaders at 

12Most

.
"Content marketing is like producing a movie. It requires a cast of skills to design, execute, distribute and measure a content initiative." I'll be speaking at CMW on how to become a social business. I'll explain how a social business approaches content the same as producing a movie. [Here is] my 

blog post explains the "producing a movie" analogy

. Bernie Borges of 

Find and Convert

 and author of 

Marketing 2.0

.
"My best piece of content marketing advice is to always be helpful and create marketing that helps people."  Michael Brenner of SAP and the 

B2B Insider

 blog.
Source / Fuente: Heidi Cohen.
Content Marketing: What I Learned On My Summer Vacation
A marketer never sleeps. Nor does she ever completely go on vacation. My husband kids me that my every conversation is a marketing lesson. What I learned on my recent family trip to Puerto Vallarta, Mexico was no different.
As part of our trip, we participated in three adventure travel packages run by a local company, Vallarta Adventures, that enhanced our vacation and provided us with unforgettable memories. This was experiential marketing at its best.
Here are 7 actionable experiential content marketing tips based on my summer vacation. They can be applied to restaurants, hotels, activities, events and conferences. But don't overlook the potential for using these tips in your retail establishment.
Source / Fuente: Heidi Cohen.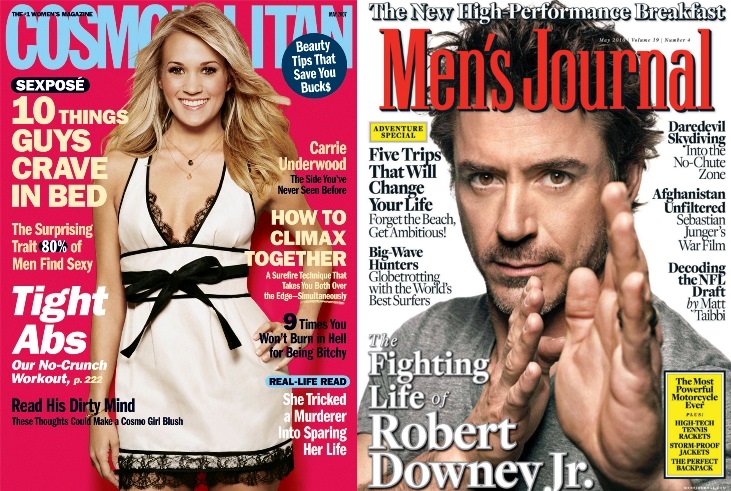 At HubSpot, we love to teach businesses how to write compelling copy and irresistible offers. One of the most important elements of any piece of content is having an attractive headline. Especially in today's economy where every company is fighting for consumer attention, standing out is important.
As our CEO Brian Halligan once said, "You can have an amazing piece of content, but if the headline sucks, no one will read it."
Whether it's an email, blog post, news article, or whitepaper — the better the headline, the more clicks and readership it attracts. That's why magazines have become masters at compelling headlines. Take Cosmopolitan for example: "10 Things Guys Crave in Bed," and "Tight Abs: Our No-crunch Workout." Or Men's Journal: "Five Trips That Will Change Your Life," and "Decoding the NFL Draft." Catchy titles like these, aimed at their target audience, are what gets magazines flying right off the shelf.
It's clear that seductive headlines work. But there's more than just the headline that makes content powerful. If you chose to write a highly-captivating headline, the rest of the content must deliver. More often than not, however, articles will over-promise with the headline and then under-deliver once the reader has gotten to the meat of it. This is referred to as link bait, which is content that is designed specifically to gain attention or encourage a click-through, and many times, the actual content delivers little value or fails to meet expectations.
When this happens, it can hurt a brand more than it helps. Here's an example:
Source / Fuente: HubSpot.
El marketing de contenidos domina internet.
Se podría decir que nos encanta consumir contenidos.
Sí, hay mucha demanda pero también hay mucha competencia.
Millones de contenidos se publican cada día en internet (artículos en blogs, vídeos en YouTube, podcasts en iTunes, mensajes en redes sociales, etc).
De todos ellos sólo un bajo porcentaje funciona y cumple con su cometido.
Lo cierto es que no todo contenido sirve.
Existen 3 elementos imprescindibles que todo buen contenido debe tener. Si alguno de estos tres elementos falla rompe la ecuación y el resultado sale erróneo. No funcionan por separado. Han de estar los tres presentes.
Todos tus contenidos, ya sean escritos, vídeos o podcasts, deben tener estos tres elementos. A continuación te digo cuales son y cómo conseguir que estén presentes en tus contenidos.
Source / Fuente: David Cantone.
"Content marketing strategy" is a phrase that gets thrown around quite a bit, but how well do we really understand it?
Let's break down this terribly abused phrase into its three components:
Content refers to the creation of something (anything) that is on some level enjoyable to consume.
Marketing refers to the act of promoting and distributing content to guide consumers toward a defined goal.
Strategy refers to the processes for getting content distributed to and consumed by the right audiences.

Content marketing isn't just about writing blog posts and hoping that's effective for search engine optimization. Content marketing is about actively creating and distributing work that's intended to lead consumers toward some predefined goal.
Unfortunately, that basic concept is lost on many content marketers, which is why (for example) a frequent result is an underperforming blog.
So let's delve into the top 10 content marketing mistakes and how you can avoid or correct them.
1. Your content doesn't have specific goals
When you look at all of the content on the Web that is designed to sell something, you can distill it into four categories.
Source / Fuente: MarketingProfs.
El marketing de contenidos cobra fuerza en el mercado dentro de las estrategias de las empresas. Según la Wikipedia 'contenido' se denomina a cualquier tipo de publicación: Social (posts, tuits, actualizaciones en redes sociales…), online (newsletter, ebooks…), papel (revista corporativa…)  y multimedia (vídeos, podcasts…).
¿Porqué utilizar el arte del marketing de contenidos?
El motivo principal por el que se debe utilizar esta técnica es el de transmitir la información de otra forma, es decir, captando la atención del cliente agradablemente. El cliente ya no va a percibir este mensaje: ¡Compra mi producto!, sino este otro: ¿Conoces este caso en el que este producto ha funcionado genial?
Utilizando el marketing de contenidos aportas valor antes de pedir nada a cambio.
Vas a aumentar la difusión de tu marca y su presencia online.
Vas a favorecer el contacto con tus clientes, ya que se ha demostrado que lo que más valoran es el contenido de calidad y especializado.
Vas a fidelizar a tu público ya que al generar contenidos que resuelven sus dudas se van a interesar por tus contenidos y te van a seguir por lo que habrás creado una relación de confianza con la marca.
Vas a crear una comunidad con un índice de interacción alto ya que tus clientes van a dialogar constantemente y no solo eso, además hablarán de tu marca con otros.
Source / Fuente: Puro Marketing.
Habitualmente decimos que el contenido es el rey, y últimamente hay un tipo de contenido que se está cobrando cada vez más valor, aumentando su riqueza y expansión, ejerciendo su dominio también en las redes sociales: se trata del vídeo online.
El consumo global de tráfico ha experimentado un aumento considerable en los últimos años. Si en 2012 se consumían 16,9 petabytes mensuales, en 2013 se espera que se alcancen los 21 y que en 2016 se duplique sobradamente, superando los 45.
Youtube es la principal plataforma de vídeo, con más de 150 millones de visitas únicas al mes. En segundo lugar, aunque a una considerable distancia, aparece una red social, Facebook, con cerca de 60 millones.
El vídeo ha impulsado notablemente la demanda de este tipo de contenido por parte de los usuarios, representando el 51% del tráfico total. Se estima que en 2017 los usuarios consumirán más cantidad de vídeo que de cualquier otro tipo de contenido a través de los dispositivos móviles (66%).
Source / Fuente: Puro Marketing.